General Information
Tour Route: Ho Chi Minh – Cai Be – My Thuan – Sa Dec – Vinh Long – Tra On – Can Tho –
Phu Quoc
Duration: 7 Days
Start/End: Ho Chi Minh/Phu Quoc
River Cruise Name: Le Cochinchine (Downstream)
Cruise Type: Standard, Sharing, 10 cabins
Full Itinerary
Day 1: Ho Chi Minh City arrival – Nightlife on vintage Vespa (D)
Welcome to Ho Chi Minh City – Vietnam's busiest and busiest city. After arriving, our tour guide and driver will take you straight to the hotel for checking in and relax. In the evening, hop on a vintage Vespa for a short ride to discover city nightlife. Admire sunset around 30 minutes while refreshing yourself by a cup of beer or cocktail, then visit Stunning Flower Market is known as the wholesale market than a shopping experience. The brilliance of colors when passing by Chinatown can stimulate your interest before enjoying a delicious local meal (Spring roll, Fried Rice or Vietnamese Noodles…). Finish this tour by exploring modern style architecture such as The New City Town, Bitexco Building, and sparkling Saigon River from the other side of the Center.
Overnight in Ho Chi Minh city.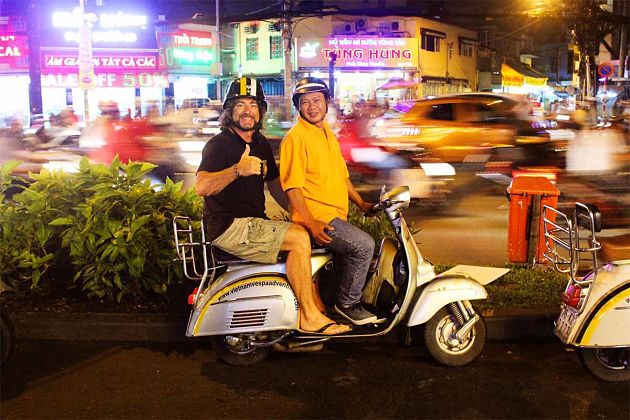 Day 2: (River cruise begin) Cai Be – My Thuan – Sa Dec
After breakfast, we will pick up you at 08:00 – 08:30 then transfer to Cai Be to board the Le Cochinchine boat, enjoy the welcome drink. Lunch is served while Le Cochinchine sets sails to Cai Thia.
Take part in a short cycling excursion on the bank of the peninsula, passing by several verdant villages. Go deeper into the Delta life, visit the gardens and orchards and listen to local people sharing if we have the opportunity to meet. On the way to My Thuan, stop for a quick visit Cao Dai temple. The cruise will continue to move to Sa Dec, a peaceful town overlooking Mekong river, another chance to explore lively food market as well as primary school headed by Marguerite Duras. Walks along the village path and witness all activities of farmers at rice fields, vegetable farms, fish farms. Back to the boat, relax, enjoying an aperitif.
Dinner and overnight while we cruise downstream.
Day 3: Vinh Long – Tra On (B, L, D)
Cruise back to Cai Be, breakfast on board. The bustle of the morning market might wake you up, come and visit the daily busy life of local people from both sides of the Mekong river. Go deeper inside the market by small motorboat with walking to see people are doing activities every day, we will also have a chance to visit Mr. Kiet old house and sample various tropical fruits before returning to the Le Cochinchine for lunch. Continue the journey to Tra On via Cho Lach, Mang Thit. Follow the river tide, disembark, here you could choose to walk or biking on the footpaths of the countryside. Join with farmers to know how they grow, take care of tropical fruit orchards, especially some orchards (orange grove). Return to the boat then a complimentary drink will be served when you back to the boat, relax and enjoy a beautiful sunset.
Dinner and night on board in Tra On.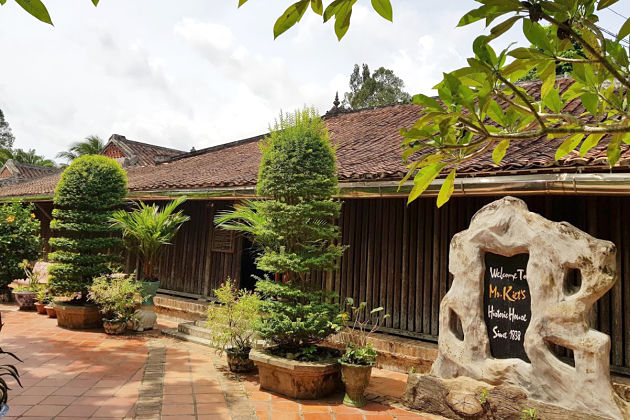 Day 4: Tra On – Can Tho – Phu Quoc (B, L)
Another day you might be waking up by the noise sound of floating market, breakfast and leisure time while cruise up the BASSAC river to Can Tho. Immerse yourself in the beautiful scenery and magnificent sunrise on the river. Embank a small boat to explore the Cai Rang market. Listen and witness hundreds of small boats barging and jostling for space to sell their goods on one of the most bustling floating markets in Mekong Delta, glide the palm-shaded creek to view local houses and green orchards. The river cruise will end at 10:00, our tour guide and driver will take you to the airport for a short flight to Phu Quoc. Upon arrival, transfer to hotel and relaxing time for the rest of the day.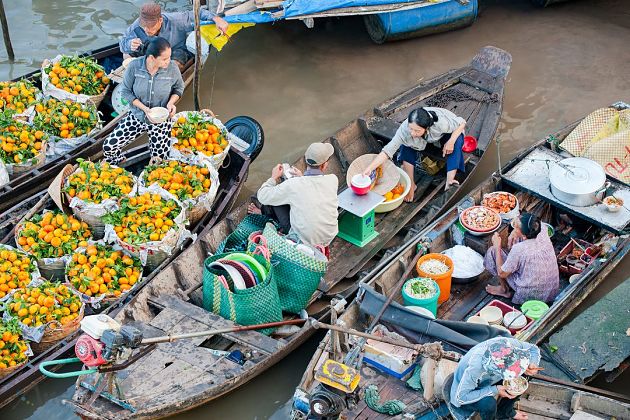 Phu Quoc or could say Ngoc Island, is 1 of 22 islands here located in the Gulf of Thailand, also the biggest island in Vietnam. Together with other islands form the Phu Quoc island district of Kien Giang province. In 2006, Kien Giang coastal and island biosphere reserve, including Phu Quoc, was recognized by UNESCO as a world biosphere reserve. Besides the beautiful beaches stretching from the north to the south and the primeval forest ranges with rich flora and fauna, Phu Quoc also famous for its production of fish sauce. Enjoy the fresh air and local delicacies at superb beaches!
Overnight in Phu Quoc.
Day 5: North of Phu Quoc Island (B, L)
Start your day to the north of Phu Quoc island by visiting Phu Quoc National Park, trekking and explore the pristine forests and rich ecosystems, we will show you the diversity of plants and animals here. Next, we will visit Mui Ganh Dau, known as the maritime boundary between Vietnam and Cambodia, where you will have time for swimming as well as taste fresh seafood. After lunch, take a short bus ride to the river mouth, where Cua Can River flows into the sea before observing the process of producing fish sauce, the process of growing and harvesting black pepper, two very typical and famous products at The island and has its own brand on the domestic and international markets can be purchased if you like.
Overnight in Phu Quoc.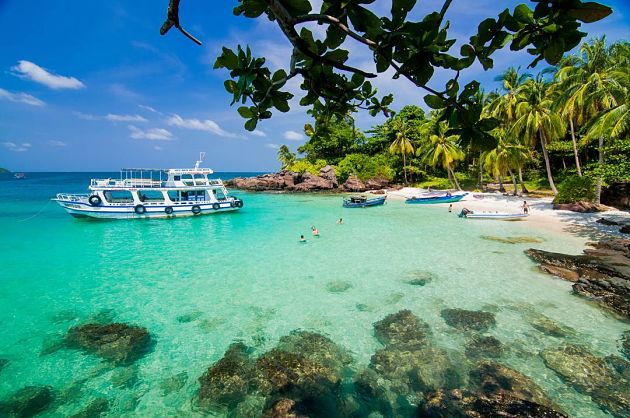 Day 6: Phu Quoc Free Day (B)
Full day free at the beach!
Overnight in Phu Quoc.
Day 7: International Flight (B)
Today our awaiting vehicle will take us back to the airport for the transit flight to Saigon then
take international flight back home. Trip ends.