General Information
Tour Route (Upstream): Saigon – My Tho – Cai Be – Sa Dec – Tan Chau – Phnom Penh – Koh Chong – Oudong – Kampong Tralach – Kampong Chhnang – Tonle Lake – Siem Reap
Duration: 12 Days
Start/End: Ho Chi Minh City/Siem Reap
River Cruise Name: Mekong Prestige II Cruise (Upstream)
Cruise Type: Luxury, Sharing, 32 Cabins
Full Itinerary
Day 1: Ho Chi Minh City Arrival
Upon arrival at Tan Son Nhat International Airport, warmly welcomed by our guide and driver who will lead you to hotel for check-in.
Overnight in HCMC.
Day 2: Ho Chi Minh City Tour (B, L)
Today is urban exploring day with a city tour around Ho Chi Minh City. Step out of the past, Ho Chi Minh City which was formerly Saigon turning into a bustling urban city as today. Visit the city's highlights including Chinatown, the Thien Hau Pagoda, the Reunification Palace, the Opera House, Hotel de Ville, and War Remnants Museum.
Witness the colorful outdoor markets at Dong Khoi Street – the most famous shopping boulevard in the city. This area is filled with several shops selling clothes and accessories by amateur Vietnamese designers, hill tribe crafts, top quality linens, and housewares.
Meals: Breakfast, Lunch
Overnight in HCMC.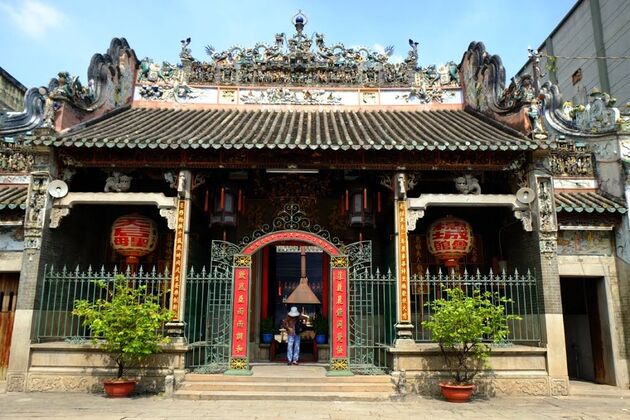 Day 3: Cao Dai Temple – Cu Chi Tunnels (B, L)
Pick up in the morning and head to Cao Dai Temples in Tay Ninh. Cao Dai is a religion in Vietnam. Religion is a combination of Buddhism, Taoism, Confucianism, and Christianity. The Cao Dai Temple at Tay Ninh has been described as a Disney fantasia of the East. The temple's exterior is designed with colorful dragons of many shapes and sizes competing for space with a variety of spiritual symbols. Admire the symbol of the Cao Dai religion – the all-seeing holy eye above the main entrance.
After enjoying a delicious local lunch, continue to Cu Chi Tunnels. The tunnel was used to being the hiding place of Viet Cong soldiers in the past. The network included countless trap doors along with constructed living areas, storage facilities, weapons factories, field hospitals, command centers, and even kitchens for a living.
Today the remaining tunnels became a well-known attraction to have singular experiences and a feel of how underground life during the U.S.-Vietnam War was.
Meals: Breakfast, Lunch
Overnight in HCMC.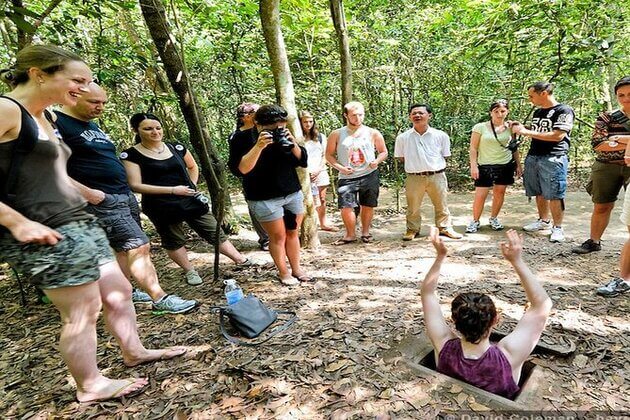 Day 4: Saigon – My Tho (L, D)
Today you'll sign up the RV Mekong Prestige's desk at 9 AM at the Sofitel Saigon Plaza Hotel in Ho Chi Minh City. Transfer by bus to My Tho town, which is 70 KM from the city. En route, we'll make a stop and head to Cho Lon market and followed by a lacquer factory. Arrive My Tho at noontime, check-in on board the RV Mekong Prestige. Vietnamese lunch is ready to be served in the restaurant, then start cruising leisurely along the Mekong River. In the evening, enjoy the welcome dinner with Vietnamese traditional music show (Dong Ca Tai Tu).
Meals: lunch, dinner
Overnight on board
Day 5: Cai Be – Sa Dec (B, L, D)
Hop off your cruise and take a morning junk trip to Cai Be floating market – the most bustling river market in the Mekong Delta in Vietnam, where over 400 sampans gather a day. On each boat, there is a bamboo stick to place the product they are selling such as Vietnamese fish sauce, rice paper, sweet confectionery, or colorful fresh fruits. Then, visit a famous French Gothic Cathedral. Leisurely walk along the river bank and visit local manufacturers producing rice paper and coconut candies.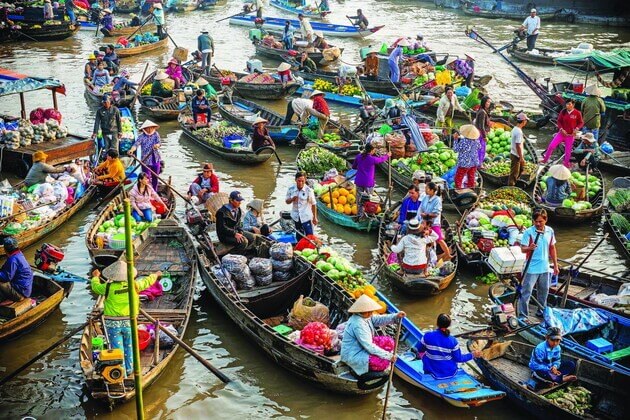 After lunch on board, cruise to Vinh Long and visit Sa Dec. Take a step to French Writer Marguerite Duras's house. When she was young, she lived in Sa Dec, a rambling busy town on the Mekong Delta. Both the school where her mother worked and the small residence where the family lived still remained. Witness the house of Marguerite's Chinese Lover which is a mini-sized museum of "The Lover" in Sadec. Continue to a Caodaist Temple and get a glimpse of local life in a local market.
Meals: breakfast, lunch, dinner
Overnight on board
Day 6: Tan Chau – Border Crossing (B, L, D)
Today will be filled with local experiences along the Mekong River. Start with a visit to a fishing farm in Tan Chau on the Ban Sac River. Then, take a walking tour to handicraft villages where local artisans made woven mat and raw silk. Enjoy the amusing rickshaw ride around the idyllic town.
After lunch, check out the formalities to enter the Cambodia border, then sail up the Mekong River to Phnom Penh.
Meals: breakfast, lunch, dinner
Overnight on board
Day 7: Phnom Penh Sightseeing Tour (B, L, D)
After breakfast on board, explore Phnom Penh – once the Paris of the East. Discover this rustic charming and elegant land by taking a city sightseeing tour. Visit the blazing white and gold structure of the Royal Palace and the Silver Pagoda, and admiring extraordinary beautiful Khmer crafts at the National Museum. Enjoy lunch on the boat and boost your energy for the afternoon journey to the former High School "S21", transforming to a detention center under the Khmer Rouge's ruling 70s. Then, head to Wat Phnom for learning about Khmer traditional religion.
Return to the cruise after dark. This evening will have a special event. Remember to take a seat for the best view that you will enjoy the Apsara dance performance later. Experience the brilliance and enrichment of Khmer culture, the gentle sounds of traditional music, the gracious scent of incense, and a barbeque on the sun deck.
Meals: breakfast, lunch, dinner
Overnight on board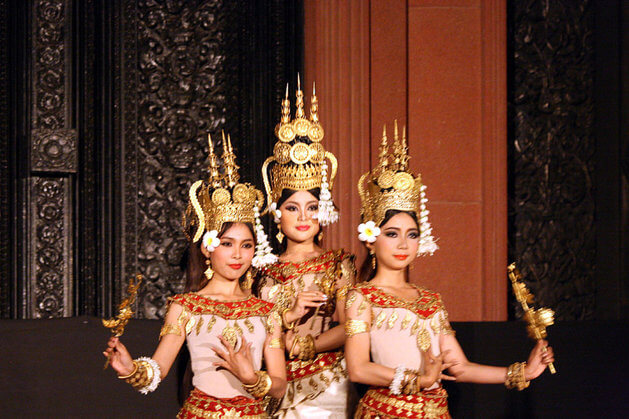 Day 8: Phnom Penh – Koh Chong (B, L, D)
Early morning sailing from Phnom Penh to Chong Koh or Oknathey (both located in Silk Island). Learn how silk is made by visiting a traditional silk weaving village and a local workshop. Expand the trip with a visit to a pagoda and a warm chatting with the local young generation in a primary school. Cruise past Mekong's authentic villages and experience river life by enjoying fishing activities.
Meals: breakfast, lunch, dinner
Overnight on board
Day 9: Oudong – Kampong Tralach (B, L, D)
Follow your cruise to Oudong while admiring the panoramic views along the river bank. Hop off in the early afternoon when arriving at Oudong, the former capital city of Cambodia. Located on a hilltop are plenty of Stupas that existed from the period of the last Khmer Kings. Witness the Vipassana Dhura Pagoda where Buddhist Monks use for meditating. Then head to Kampong Tralach and straightly visit the beautiful Vihara of the Wat Kampong Leu Pagoda which is well-known for numerous precious wall paintings. Return to the ship by ox-drawn carriage.
Meals: breakfast, lunch, dinner
Overnight on board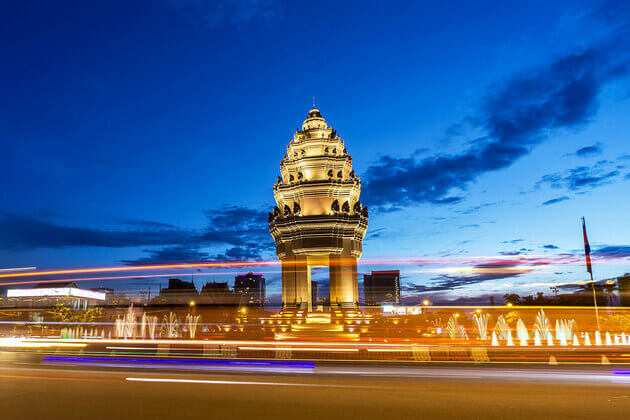 Day 10: Kampong Chhnang (B, L, D)
Today we will sail on the Tonle Sap River which connects the Mekong River to the Tonle Lake – the largest freshwater lake in Asia. Arrive at the bustling rural town Kampong Chhnang, enjoy the rare chance to connect with true Khmer people by taking a motorboat to this little town. Villagers here used to live with the canal system which crisscrosses the town. We go ashore to stroll through the quaint market.
Meals: breakfast, lunch, dinner
Overnight on board
Day 11: Tonle Lake – Siem Reap (B, L, D)
Cross through the legendary Tonle Lake this morning *(Please note that when there is low water, then transfer to Siem Reap will be made by coach or speed boat). Witness the abundant ecosystem here with interesting and varied birdlife caused by the special water levels in the lake and river which is different in year time and rainfall. Disembarkation after breakfast and transfer to the hotel in Siem Reap.

Take a short rest before journey out to the World Heritage Site which is even printed on the Cambodian national flag, Angkor Wat. Believed to be the world's largest religious site, Angkor Wat is the perfect example of symbolism, symmetry, pride, and strength to all Cambodians. Built-in the 12th century by King Suryavarman II, this is the most famous temple at Angkor. Little by little explore every corner of Angkor Wat to enjoy its magnificence. After enjoying the stunning sunset view, head back to the hotel for relaxing.
Meals: breakfast, lunch, dinner
Day 12 – Siem Reap – Departure flight
After breakfast at the hotel, the driver transfers to the airport. Take the departure flight at a good time.
Trip ends.