General Information
Tour Route: Tour Route: Luang Prabang – Kuang Si Waterfalls – Pak Ou Caves – Nong Kiaw – Luang Nam Tha – Nalan Village – Huay Xay – Pak Beng
Duration: 14 Days
Start/End: Luang Prabang/Luang Prabang
River Cruise Name: Mekong Sun Cruise
Cruise Type: Luxury, Sharing, 14 cabins
Full Itinerary
Day 1: Luang Prabang Arrival – Check-in Mekong Sun Cruise (D)
Welcome you to Laos – A mystery country in Indochina. On your arrival, our tour guide is ready to welcome you at the airport then transfer to the hotel for short rest. At 1 p.m., you will move to the pier to embark on your amazing boutique-cruise ship. Then we will explore the famous Wat Xieng Thong. In the late afternoon, you will have free time to enjoy the wide decks, lounge on board and attend our welcome dinner.
Overnight at Mekong Sun Cruise.
Day 2: Overview of Luang Prabang (B, L, D)
While you having breakfast on cruise, you will see the traditional giving of alms in the streets here. Then, our cruise will start to depart for a fascinating journey in majestic Mekong River from Luang Prabang southbound through stunning scenery.
Overnight at Mekong Sun Cruise.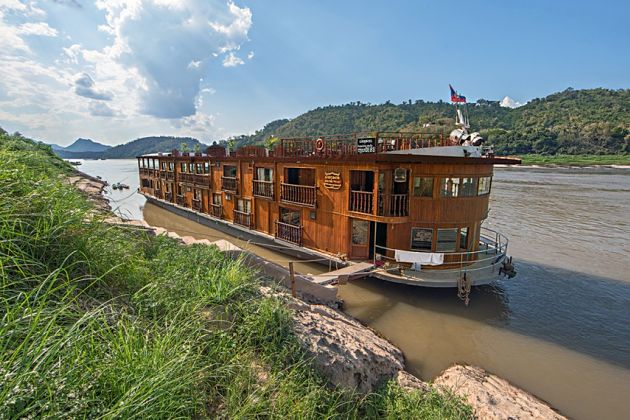 Day 3: Discover the nature along the Mekong River (B, L, D)
Further downstream you will explore the most remarkable; most alluring landscapes of this river with the tropical hills, some rock formation's near the banks. The slow and fast the river will make you feel like joining an adventure trip to discover an unknown river. After this adventure, your reward will be visiting a local village and observing a wonderful nature
Overnight at Mekong Sun Cruise
Day 4: Kuang Si Waterfalls (B, L, D)
Continuing the journey, you will keep visiting the most highlight site in Old Capital of Lao, which means Kuang Si Waterfall. After a few hours, you will finally arrive at the pier. Our driver with local Tuk-Trucks is reading to take you to visit the famous Kuang Si waterfalls. After that, stopping at a riverbank, walking on the sand and having delicious BBQ dinner.
Overnight at Mekong Sun Cruise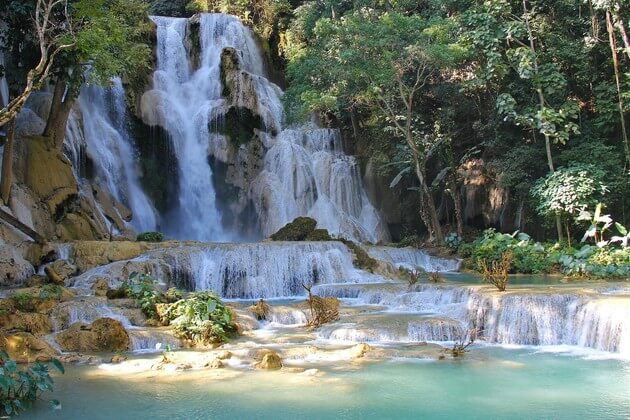 Day 5: Pak Ou Caves (B, L, D)
After breakfast at your cruise, our cruise will head to discover Pak Ou Caves which is one of the most attractive here. You will see countless Buddha statues in the cave with many different sizes. After that, we will walk shortly inside the jungle. On the way, we will visit the Laotian village. This village is very famous with local liqueur which is made by traditional distilling.
In the late afternoon, enjoying the gorgeous sunset in Phou Si hill before immersing yourself in a colorful market of Hmong minority.
Overnight at Mekong Sun Cruise
Day 6: Luang Prabang – Nong Khiaw (B)
Having breakfast at the cruise's restaurant before checking out and saying goodbye with crews. Then, our driver will take you to Nong Khiaw – one of the attractive destinations in Luang Prabang Province with the majestic view of mountains and rivers.
Overnight at hotel in Nong Khiaw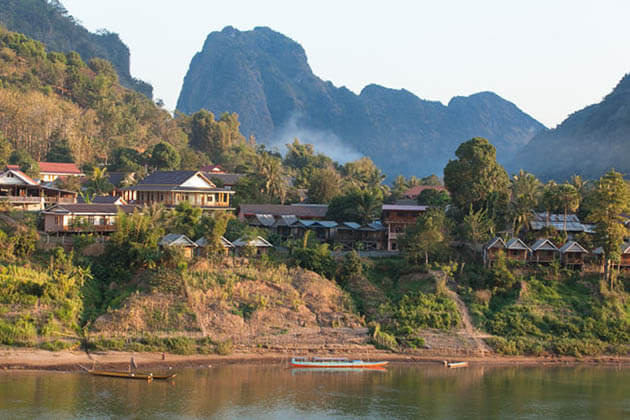 Day 7: Nong Kiaw – Muang Ngoi Boat Trip (B, L)
Today, you will explore deeply this area. Along the river with a traditional longboat, we will visit some ethnic villages to know cultural diversity. Next, we are going to Muang Ngoi which contains a beautiful landscape of limestone cliffs, mountains. If you are lucky, you will see the exquisite rice paddy fields. If time permits, we will visit a historical cave as well. On the way back, we can enjoy a different sunset over Nong Khiaw.
Overnight at hotel in Nong Khiaw
Day 8: Nong Kiaw – L

uang Na

m Tha (B, L, D)
After breakfast at hotel, today we discover a different site – Luang Namtha. Here, you will have the chance to trek in the surrounding resplendent countryside. Luang Namtha is located inside Nam Ha NPA – which also known as the National Protect Area. At the moment, there are some villages inside Khamu, Akha and Lao Huay ethnic minorities.
Overnight at hotel in Luang Namtha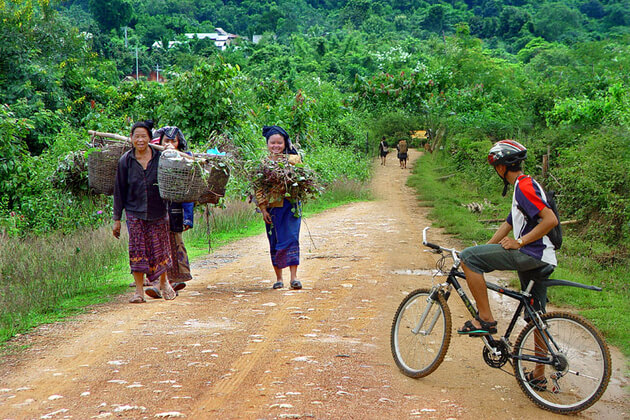 Day 9: Luang Nam Tha – Nalan Village (B, L, D)
Following an amazing journey, we are continuing to trek through the 10-20-year-old secondary forest to discover the upland jungle forest of Nam Ha NPA. On the way, you will see the wonderful landscape of a ridge before being covered by forest again. Today, you will enjoy a picnic lunch before exploring the Nalan community forest to check-in and relax at your homestay.
Overnight at shared homestay
Day 10: Nalan Village – Chalernsouk or Nalue Village – Luang Namtha (B, L, D)
In the morning we will spend more time to visit deeply village and taste Lao Coffee with bamboo cups. Next, there are 2 options for your trip:
The first option is to follow a trail hike uphill through the forest. Having a traditional meal on the forest path. Thereafter, we will spend 2 hours to hike down the mountain slope to meet our driver and shuttle back to Luang Namtha.
The second one is going along the Nam Ha River which flows through the village of Nalan Tai Village and arrives cultivated areas of the Lanten people. Then, we spend a couple of hours to challenge yourself with a beautiful trail. You will pass through stands of ancient trees – some of them are almost five hundred years old and hear the sound of birds and insects. On the top of the ridge, spectacular northern views are waiting you observe. With our guide, we will trek down safely to the village of Lantan and Khmu people. It is also a place our driver is waiting to take you to return Luang Namtha by Tuk Tuk.
Overnight at hotel in Luang Namtha.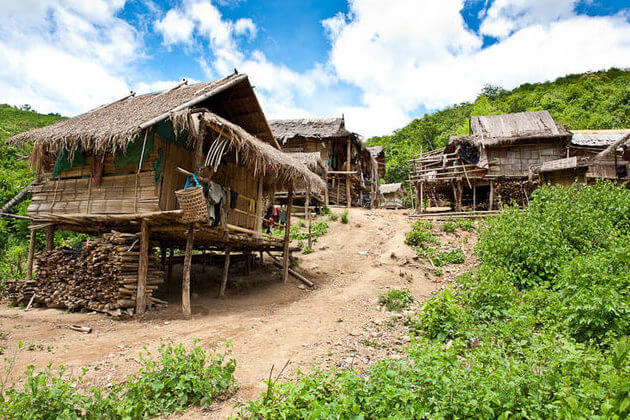 Day 11: Luang Nam Tha – Huay Xay (B, L, D)
You will be free until our driver takes you to Huay Xay – which is located near Thailand. Check-in hotel and relaxing
Overnight at hotel in Huay Xay.
Day 12: Huay Xay – Cruise to Pak Beng (B, L, D)
In the morning, you will transfer to the cruise to visit Pak Beng. On arrival, you will be served lunch on board with traditional local food.
In the afternoon, explore a Hill Tribe Village. As a local, our guide will show the condition of living and the origins of these rural populations. Due to a small tribe, you need to attend especially to respect their private space.
After that, transfer back cruise for relaxing or enjoy local snacks and fresh fruits.
In the late afternoon, the boat arrives in Pakbeng in the sunset time
Overnight at the hotel in Pak Beng.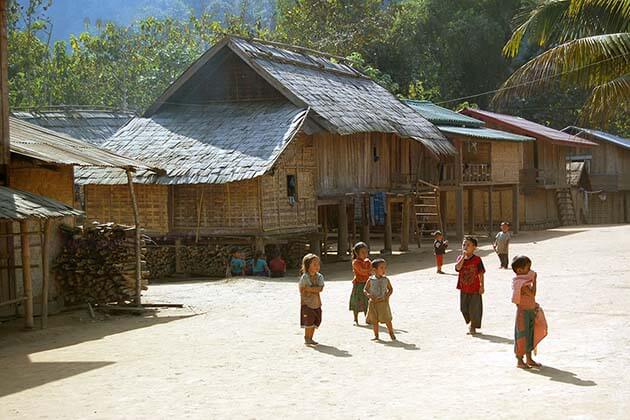 Day 13: Pakbeng – Cruise to Luang Prabang (B, L)
After breakfast, we leave Pakbeng to transfer back Luang Prabang. Your morning will be free.
In the afternoon, we will visit Lao Lao village which is known as Whiskey village and Pak Ou Caves if you want. You will arrive at Luang Prabang at around 4:30 PM.
Overnight at hotel in Luang Prabang.
Day 14: Luang Prabang Departure
Have breakfast before our driver transfer you to the airport for the departure flight home.