General Information
Tour Route: Phnom Penh – Kampong Tralach – Kampong Chhanang – Chnok Tru – Siem Reap – Angkor Wat – Beng Melea
Duration: 7 Days
Start/End: Phnom Penh/Siem Reap
River Cruise Name: Toum Tiou II
Cruise Type: Deluxe, Sharing, 14 cabins
Full Itinerary
Day 1: Phnom Penh Arrival – Embark on Cruise to Koh Chen/Oudong (L, D)
Welcome to Phnom Penh – A capital of Cambodia! Our tour guide and driver will take you to the Toum Tiou II to check in and having lunch.
In the afternoon, visit Kôh Chen, a small village that is famous for silver and copper smiting. You can find here ornamental items such as delicately engraved tropical fruit which are usually seen in traditional ceremonies or at weddings. Then, we keep moving to visit Oudong, which is known as a hill of Cambodia's ancient capital, where a royal stupa is located.
Overnight on Cruise.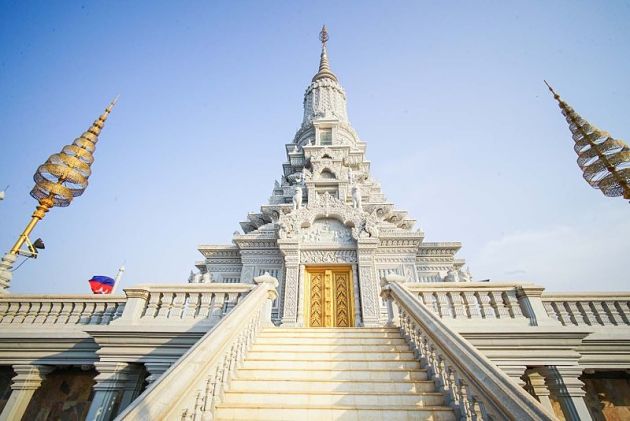 Day 2: From Kampong Tralach to Kampong Chhnang (B, L, D)
Today, the cruise will arrive at Kampong Tralach. After passing Kampong Tralach Krom village walking on a small road perpendicular to the river, then over appealing stretches of emerald rice paddy, we will reach amazing Viraha Temple. Having lunch on a cruise while the cruise takes us to Kampong Chnang. Kampong Chnang Town is about 56 miles from Phnom Penh – are very famous for fishing and pottery ware. You will have the chance to taste and observe many kinds of Thnot's products such as sugar, cakes… After that, the cruise will leave for Tonle Sap Lake. Having dinner at cruise's restaurant while cruise dock at the Grand Lake Tonle Sap Lake.
Overnight on cruise
Day 3: Chnok Tru to Siem Reap (B, L, D)
Having hearty breakfast while cruising to Siem Riep. On arrival, using a local boat, we will explore Chnok Tru with local attractions such as a school, an ice factory, churches, pagodas, a pigsty, repair shops, and a police station. The special things are they are floating on Lake on the high water (July – December). From June to March, if water level condition permits, we will visit the floating village. Back to the cruise for checking out, we will stop at Phnom Krom pier then transferring to Siem Riep. Check-in hotel.
Overnight in Siem Reap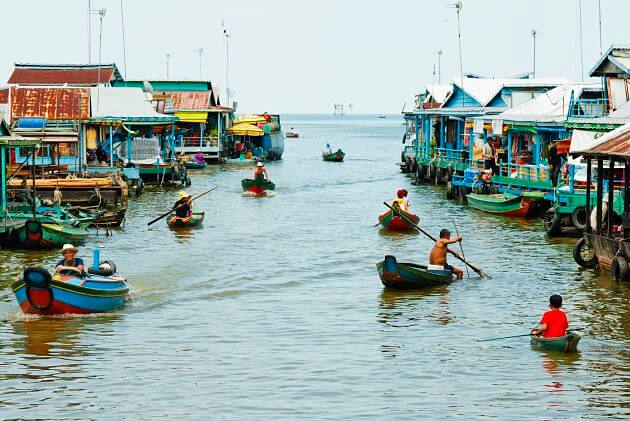 Day 4: Siem Reap – City Tour (B)
Continuing our journey, we will discover attractive and gorgeous province Siem Riep and many mysterious ancient Temples. Start the trip with a city tour with a local transportation tuk-tuk. Being a local people, you will see a different Siem Riep with bustling streets over stunning pagodas. From PsaChass to Old city Market with many color products.
Overnight in Siem Reap
Day 5: Siem Reap – Angkor Temples – Sunset quad bike (B)
After breakfast at the hotel, we are ready to start the trip to explore Angor Wat – a Heart of Angkor Temples and the largest temple of Kmer people.
On arrival, the first place is Angkor Thom and Bayon Temple. Next to Elephant Terrace and complete your trip with Terrace of the Leper King and Ta Phrom Temple.
In the afternoon, our tuk-tuk will take you to the Cambodia Quad Bike office. Our driver will overview safety, we will start to ride around rice fields here, get through some local villages, and know about local people in the countryside. Stop at the best place for a beautiful sunset photo. Then come back office for washing mud and enjoying a drink.
Overnight in Siem Reap.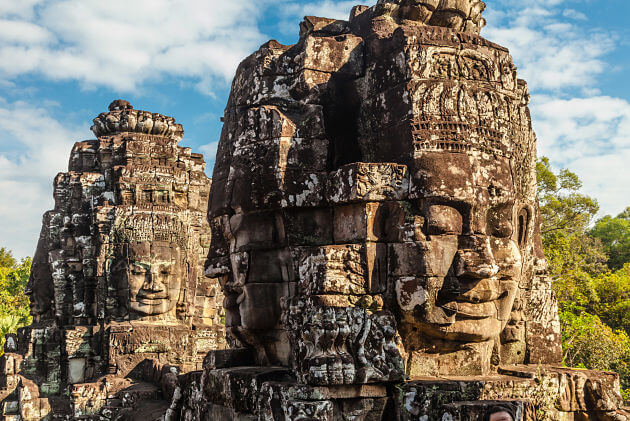 Day 6: Siem Reap – Koh Ker – Beng Mealea
A full day to visit 2 highlight places in Siem Reap: Beng Mealea and Koh Ker. The day will start to visit Pond of Lotus Temple means Beng Mealea. Beng Mealea is a Hindu Temple was built in the early 11th century by Suryavarman II. Located in a maze of the jungle for hundreds of years, you will climb over big sandstone blocks to go inner sanctuary and eerie worship corridor. You will see the original architecture with wide galleries foreshadowing Angkor Wat. It is completely worth your time here.
In the afternoon, we will reach Koh Ker which is ancient capital abandoned since the 1920s. Visit the pyramid temple of Prasat Thom is tinge with time. Become an archaeologist, you keep on explore other unknown temples such as Prasat Krahom before returning Siem Riep.
Overnight in Siem Reap.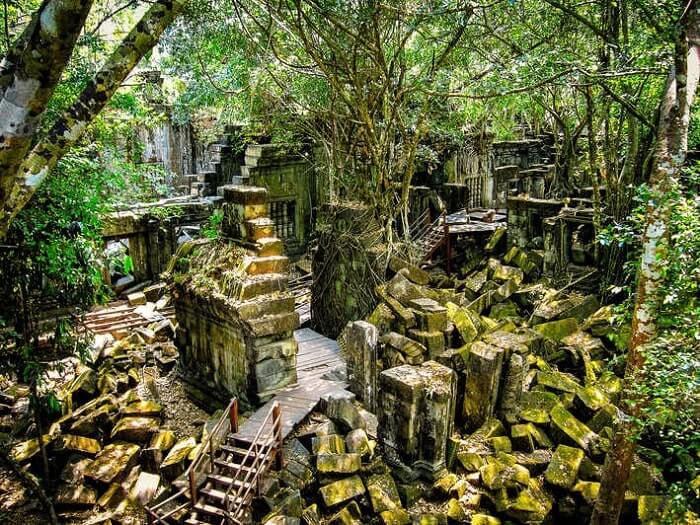 Day 7: Siem Reap – Departure
You will be free for relaxing at hotel until our driver comes to take you to Siem Reap International Airport for departure flight. Trip ends